Course Information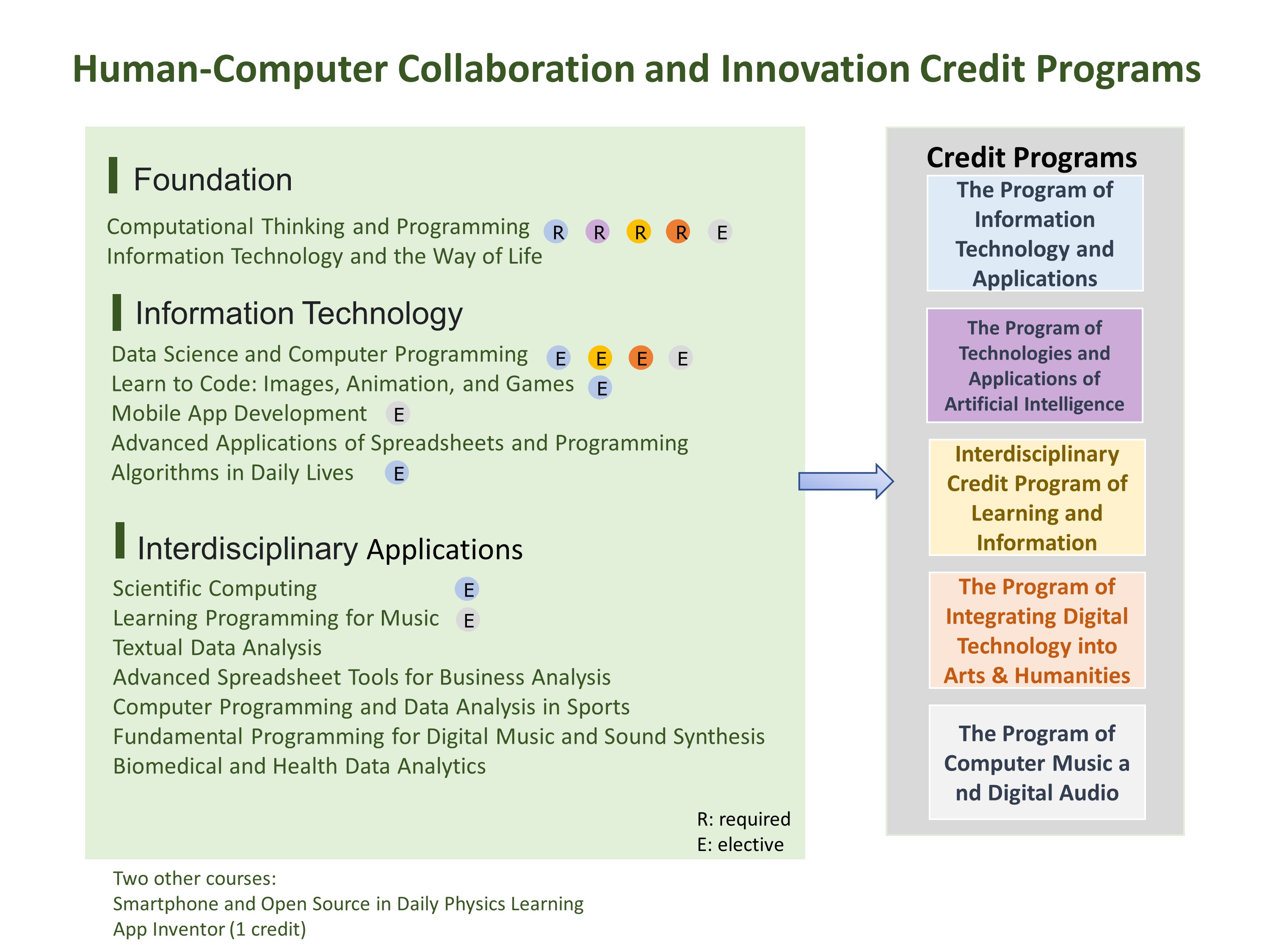 Course Introduction

Foundation

Computational Thinking and Programming

Using information technologies to solve problems is an important skill in today's workplace.

High-level workers often need to design a series of instructions to use information tools or make information equipment operate automatically according to needs.

To have this ability, you need to have a good "computational thinking".

Through group unplugged activities, this course will learn how to apply computational thinking to solve problems (without the use of information equipment), and then learn basic program/command design skills through visual programming tools. Finally, let group make multimedia project, to make sure they can apply "computational thinking skill". Those who complete this course will have the foundation to develop information application software (such as APP application software) and information application system (such as the Internet of Things).

Information Technology
and the Way of Life
The IT(Information technology) already is an inseparable part of our lives, including digital applications such as the Internet, mobile applications, 3C electronic consumer products, wearable devices, and online games; while we embrace technology, we should also pay attention to its reasonable and safe use.
Although "technology always comes from human nature," technology should improve and promote human life, rather than cause the degradation of mankind and the collapse of civilization.
This course is based on a digital learning course on information literacy and ethics developed by the Ministry of Education. It uses diverse and realistic teaching content designs to guide students to understand the characteristics of the Internet community and cultivate students to pay attention to information security and Internet ethics. At the same time, this course will also introduce many new information technology applications, and group discussions will help students understand and achieve the course goals.
Information
Technology 

Advanced Applications of Spreadsheets and Program

This course teaches how to use EXCEL functions and VBA programming to solve practical problems in life.

Mobile App Development

This course aims to teach students to develop mobile applications through MIT App Inventor, a visual programming language. Students who intend to enroll in this course are suggested to have basic programming skills and know basic programming concepts such as variables, selection, and loops. (Those who need to learn basic programming skills are encouraged to enroll in another general education course - "Computational Thinking and Programming".)

Learn to Code: Images, Animation, and Games

This course will take MIT Release's Open Source development environment-Processing as the main teaching target.

Algorithms in Daily Lives

In this course, we introduce the algorithms that one may encounter in daily lives. We will get an insight of each algorithm through implementation. 

Data Science and Computer Programming

Through a series of data analytics real life applications, the course aims to equip students with the ability to collect, cleanse, analyze, and present data in an effective manner, which is important as the Big Data Era has come to be. The course covers control flow, common data structures, string processing, file processing, functional programing, data visualization, web scraping, and data analysis.

Interdisciplinary Applications

Textual Data Analysis

This course uses Python3 programming language to serve the purpose of Chinese Text Processing. It is designed for students with basic programming ability and interests in learning linguistic and text processing.
Toolkits such as Jieba, CKIPTagger, Articut NLP system and NLTK will be introduced in this course. Besides, all assignments are given with reference of real-world problems instead of toy questions.

Learning Programming for Music

In this course, we will use ChucK, which is a music producing tool developed by Princeton University. Different from most of the music programming languages, which are visual-type programming languages, ChucK is a text-based programing language developed based on C. Therefore, the logic for programming in ChucK, such as loop statements, if statements, objective-oriented programming, is more like those for other traditional languages. ChucK is also designed for making synthesizers, therefore, it can be to the tool for audio and music compositional projects.

Computer Programming and Data Analysis in Sports

This course aims to develop basic programming and problem solving skill by writing Python programs to do simple data processing and analysis of data in sports.

Scientific Computing

Scientific computing is a multidisciplinary field that solves problems with computers. The problems usually arise from mathematics, biology, physics, chemistry and so on. This course provides an introduction to basic python programming concepts and the techniques that can be used to solve scientific problems by modeling. 

Fundamental Programming for Digital Music and Sound Synthesis

Because of the development of music-related AI area and multidisciplinary trends in science and music, the skills of digital music and audio synthesis are gradually needed by industries. The knowledge of digital music involves three areas: music, electrical engineering, and computer science; thus, it is not easy for beginners to understand. In this course, the teacher will teach students the way to program and design digital music. Students will learn related programming languages, including chucK (for sound synthesis), Python (for editing and analyzing MIDI data), and Scratch (for auditory-visual interactive projects).

Advanced Spreadsheet Tools for Business Analysis

In the future, Information Technology ability will be the competitiveness of students in the workplace. Mastering various data processing methods and approaches such as data collection, data cleaning, analysis and application is the key to the road to Big Data. Business Intelligence is also a competitive advantage for businesses.
Therefore, this course starts from the application of data analysis in academic research to the application of data analysis in business. It will provide students with the mastery of various data collection and processing methods from data extraction to data visualization. Also, learn excel advanced applications, PowerPivot, PowerMap, and even PowerBI analysis tools. Let everyone become a data analysis expert.

Biomedical and Health Data Analytics

This course introduces the use of health data from wearable devices and patient data from electronic health records (EHR) to explore the potential of data driven personal health management and study the role of data in biomedical research and healthcare systems. The course also covers the very basics of database management, and the extract, transform, load (ETL) techniques. Students without programming concepts are advised to take Computational Thinking and Programming prior to enrolling.